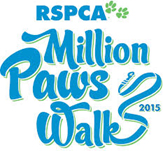 Country Myals team were thrilled to take part in 2015 Million Paws walk.
The day was stunning and the crowd huge; both the two legged and four legged variety. Tegan took the whole family to attend and thoroughly enjoyed the day.
In NSW the support of everyone led to raising 238,656.71 in NSW. Thank and congratulations to everyone who came out for the day.
See you at the next Millions Paws Walk?