I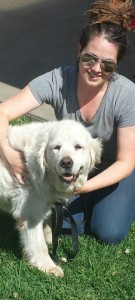 t seems we are drawing from a wider Pet Boarding pool than the local Orange and Central West NSW area. Word has gotten out and we have a new long term boarder.
Sophie is a beautiful Golden Retriever full of love and personality with a family in a dilemma. They sold their Sydney home and were building a new house on the south coast. They rented a townhouse for the duration of the construction. but this didn't suit their beloved Sophie. What to do?
A friend recommended the services of Country Myals Kennel and Cattery.
Thanks to that recommendation we have the pleasure of Sophie's company for the long term, the next few months. Many photos will be sent to her family, plus the family is always welcome  to visit their dear Sophie.
We are able to accommodate your dear pet for just the day, short term and long term. We are always happy to have you inspect our pet boarding facilities, just  call Tegan to make an appointment. You might meet Sophie!